In this digital age, screens have become an integral part of every kid's life. From entertainment to education, screens can be used for different purposes. When it comes to utilizing digital screens for children's education, Netflix is the word that pops into most parents' minds.
It has become a valuable tool to develop children's English language skills. This streaming giant has a vast library. It has thus brought wide scopes for little hearts to enjoy some captivating series and shows. Kids find it easy to learn English with Netflix animations, thought-provoking narratives, and relatable characters.
From cute TV animation series to movies with complex narratives – Netflix has everything for kids belonging to different age groups. Therefore, subscribing to this streaming platform is undoubtedly a good opportunity for parents and educators.
Because it helps them make the English language learning sessions engaging and fun for the little ones.
12 Tips to Learn English with Netflix
Learning a new language, like English has become easier with streaming platforms. Besides utilizing English learning courses, parents can take Netflix like other OTT platforms into serious consideration to make learning experiences enjoyable for little ones.
Here are some proven tips on how to make the most out of the Netflix series while helping them learn English.
Select Age-Appropriate Series
Netflix has an extensive range of movies and shows suitable for kids, teens, and adults. While choosing any animation series, don't just pick up anything. Parents like you should consider the child's language skills and interests to keep the learning session interesting and effective.
Create a Study Plan
Whether it's about learning English from blogs or Netflix series, it's necessary to create a proper study plan. Being a parent or educator, you should know which plan works for your child. Every kid is unique which is why consider creating separate plans for the little ones.
Begin with Familiar Movies or Series
So, what happens when you choose unfamiliar series for learning purposes? Chances are high that your little one loses interest and fails to grasp the story, language, and more. For the best results, begin with something he or she already knew. Thus, your child will be able to understand the plot, the characters, and the vocabulary effortlessly.
Take a Break for a Detailed Discussion
Don't let your little one watch a movie in one go. It's better to take a break and discuss new vocabulary, scenes, and characters together. Thus, you can make the learning process easy and engaging.
Note Down New Words
If you are watching an animation series with your child, note down new words and phrases after each episode. Review the new vocabulary list along with their meaning and practice the pronunciation. It's an effective way to develop his phonics learning skills.
Choose Different Genres
The best benefits of exploring different genres, like animation, comedy, etc., are – learning different language styles, vocabulary, accents, and more. This also helps young kids understand cultural differences.
Encourage Kids to Rewatch
Rewatching the same animation movie or series is key to English language learning. It brings scopes to grasp every new word and phrase along with its meaning. For optimum outcomes, turn on the subtitles. At first, ask them to watch the series for general understanding. During repetition, they can focus on specific vocabulary and phrases.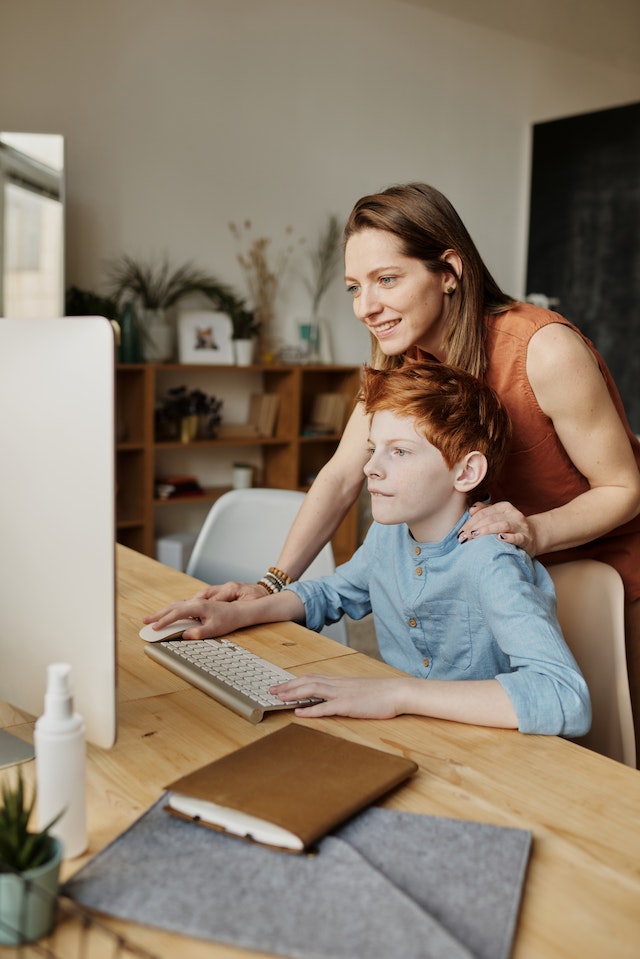 Go for Language Games
Most children are restless and they tend to get distracted easily. Language games work effectively to grab their attention. Through various fun activities and language learning games, teachers can help them learn new words. While watching Netflix shows with subtitles, cover certain words and let the little soul guess them.
Allow them to Choose Content Sometimes
When you let your kid choose his favorite animation, he will understand that you prioritize his preferences. Encourage him to explore the vast variety of content to learn English with Netflix easily and quickly.
Measure Language Development Skill Progress
Like the best English learning center, you should assess your kid's language development skill progress routinely. Fun activities, small tests, and interesting games can help educators and parents like you measure his progress.
Make English Language Practice Fun
To make the learning session fun and interesting, pair Netflix sessions with English FUNdation Course. With quizzes, fun activities, flashcard games, singing songs, and reading stories, you can make the practice sessions interesting and interactive.
Integrate English into Everyday Routine
It doesn't matter whether your child learns English through news or movies, animations, and series. To enhance his language skill, incorporate English into his day-to-day life in the following ways – reading together, listening and singing English songs, attending language classes, playing word games and crossword puzzles, etc.
12 Kid-friendly Netflix Animated TV Series to Learn English
Trollhunters has become a favorite animated series for many children. If you are looking for boundary-pushing content to motivate your little one to achieve something big, it's the most suitable one. Consisting of three parts, this series was created by Guillermo del Toro. With the elements of adventure, fantasy, and mythology, it could be a good series for learning English.
It tells the story of Jim Lake Jr. and his adventures, responsibilities, and more. He has been given the responsibility to protect two worlds – the human world and the troll world. With the help of an amulet and his friend, Jim or Trollhunter deals with challenging situations successfully.
This musical fantasy series will take you to a magical world, known as Centaurs. This world is full of several mythical creatures, including centaurs. Besides horse body Centaurs, here, you will find zebra Centaurs, llamas Centaurs, giraffe Centaurs, and other odd creatures. Centaurworld is based on the themes of identity, friendship, and acceptance. It gives little ones a very important message – we should take care of each other and accept others the way they are.
English learning centers surely help little learners achieve their language goals. However, it is also necessary for parents to ensure enough practice sessions for them. They may learn English with Netflix series, like Maya and the Three. It has excellent visuals to captivate little ones' attention.
This series deals with Mesoamerican mythology and tells you the epic story of Maya, the princess. Here, you will see how Maya's life changes after her 15th birthday. It's then, she met several underworld gods. They let her know how she would have to pay because of the misdeeds of her family. Maya bravely handles every tough situation.
Start watching this animated comedy TV series together to have a good time. This also brings opportunities to learn new words, their meaning, and phonics. It's a follow-up to the famous film, The Boss Baby.
Here you can see how the Boss Baby ensures happiness to other babies everywhere. He is a secret agent for Baby Corp. Although he returns to his family as a normal child, he keeps on working to accomplish his covert missions. No one except his older brother, Tim, knows about his secret missions.
Suitable for action-adventure lovers, this animated series consists of four seasons. It's a kid-friendly story about Carmen Sandiego, a thief. With the passage of time, Carmen's mind changes. She transforms into a modern-day Robin Hood. She starts stealing from other criminals to return stolen items to the original owners. She also discovers about her family and her mysterious past through a series of events. This series has a lot of educational elements, crucial for little learners.
Learning the English language should be fun and interesting – whether you choose English chat rooms or series to help kids learn. Octonauts is an excellent British TV series to start with the learning session. Preschool learners are the best candidates for this animated series with educational content.
Octonauts, a brave team of underwater explorers, combs the oceans to protect aquatic creatures. They embark on several missions by following their leader, Captain Barnacles Bear. They use advanced technology and underwater vehicles while helping sea creatures.
Again, an animated television series is here for preschoolers. In this series, you will be introduced to Gabby and her cat, Pandy. This young girl along with her cat discovers a magical dollhouse. It transports them to another world, full of kittens. These kittens are some miniaturized animated characters.
The dollhouse comes with several rooms with different themes. Gabby's Dollhouse comprises eight seasons with full of adventures. Let your child watch this imaginative series to learn the English language, problem-solving skills, and more.
Grab some popcorn and start watching the Llama Llama series on Netflix. Based on Anna Dewdney's bestselling Llama Llama Red Pajama book series, this TV series is suitable for children aged 1 to 3. It's a good resource for English reading and writing skill development.
The Llama Llama series follows the adventures of a llama. Known as Llama Llama, this young llama, along with his friends, lives in a fictional town, Llama Llama Springs. While watching this series, children can explore different aspects of this young llama's life, including his school experiences. It helps them understand the value of friendship.
Created by Julia Vickerman, Twelve Forever, tells you the adventurous story of Reggie, a 12-year-old girl. It focuses on Reggie's formative transition from preteen to teen. To escape the growing up pressure, this little girl chooses to go to a fictional world, the Endless Island. This place gives her the ability to stay young forever. Reggie and her two friends, Esther and Todd, embark on adventures. They also meet various bizarre creatures there.
This series with adventurous events is likely to create a lasting impression on kids. With new English words and phrases, Twelve Forever is undoubtedly a good series to learn English with Netflix.
Beat Bugs is a wonderful animated series about the adventures of five cute bugs. Inspired by The Beatles' music, this series has a unique storytelling style. With imaginative characters, it has the ability to attract young viewers.
It talks about the adventures of five bug friends who live in a backyard. Each of the episodes of this series features a Beatles song. It deals with the theme of teamwork, friendship, and problem-solving gesture.
Viewers of all ages are welcome to watch the Peppa Pig series. It revolves around the life of a preschool pig and her energetic activities. Each episode focuses on Peppa Pig's cheerful interactions with her family and friends. It's the right fit for young learners who need to understand the value of friendship. With each small episode containing valuable life lessons, Peppa Pig, helps children develop basic social skills, like sharing, problem-solving skills, and more.
It has a variety of themes that children find relatable. This show has great educational elements that can be useful for teaching some basic concepts, like colors, numbers, letters, and shapes. It's also a great resource for new English words and phrases.
Looking for something light and hilarious? Start exploring the lives of Harold and George, two best friends. This series shows the misadventures of these two friends who share a common interest in comic books and pranks. They mistakenly hypnotize their principal, Mr. Krupp, and turn him into a superhero, Captain Underpants.
With his underpants and heroic gesture, Mr. Krupp surely captivates the viewers' attention. Children, who love humor and puns, are going to love this series.
Conclusion
Watching these series help little learners develop English reading, listening, and writing skills. With their favorite characters, scenes, and storylines, they find it easier to comprehend every new word and phrase. As a parent, you can help them learn English with Netflix animated series and movies to ensure better performance.
Before you start watching these series together, create and maintain a friendly atmosphere for kids. Thus, they find it easy to reach out to you with queries about specific characters, scenes, themes, and more. Children also love to explore the series of their choice. So, allow them to access Netflix to find their favorite show.