Learning English can be a fun and rewarding experience starting from the very basics. As you're starting your English learning journey, A1 is where to begin. It is the first step towards reaching fluency and it's essential to build a strong foundation before you move on to more advanced levels.
In this comprehensive guide to A1 level English learning, we have broken down it down to three major parts –
A1 English Communication
A1 English Grammar
A1 English Vocabulary
Each is defined thoroughly to strengthen your base and give you a sense of confidence while you speak English. So, let's get started and learn English the fun way!
A1 English Communication
Exchanging Greetings
Exchanging greetings is an essential part in our everyday conversations and is a great place to start when learning English at the A1 level. Knowing how to greet someone appropriately, sets the tone for the rest of the conversation and helps to build rapport with the other person.
One of the most common greetings in English is "Hello" or "Hi." which are generally acceptable for most of the people.
Introducing Yourself
A: Hi. I'm Linda. What's your name?
B: Hello. My name's Jim.

Introducing others
A: This is my friend, Maria.
B: Nice to meet you, Maria.
Asking about someone's health
A: Hi, Alice. How are you? Are you okay?
B: I'm fine, thanks. How about you?
Sending greetings to others
A: Say hello to Jane for me.
B: Yes, I will.
Saying goodbye
A: See you later.
B: Yes, bye!
Giving Personal Information
Giving personal information is an essential skill when learning English at the A1 level. In everyday conversations, it's common to share basic information about yourself, such as your name, age, and where you're from.
Q. What's your name?
A. My name is Peter.
Q. What's your surname?
A. My surname is Jackson.
Q. How old are you?
A. I'm 33 years old.
Q. Where are you from?
A. I'm from Hong Kong.
Asking for and telling the time

Conversation 1

Man: What time is the meeting?
Woman: It starts at 6 o'clock.
Man: When is it over?
Woman: It is over at 7:30.
Man: Wow! So long!
Woman: Well, it might finish by 7:15.


Conversation 2

Man: When is your first class?
Woman: It is at 8:30.
Man: Me too! When is your last class?
Woman: My last class is at 3:45.
Man: When does it finish?
Woman: At 5:15
Man: Wow, so late!
Woman: I know.


Conversation 3

Man: Excuse me. What time is it?
Woman: It is half past ten.
Man: I'm sorry, I don't understand.
Woman: Oh, it is 10:30.
Man: Oh, thanks. Half past ten mean 10:30?
Woman: Yes, it does.
Man: So half past seven means 7:30.
Woman: Yes, you got it.


Conversation 4

Man: When is the next bus?
Woman: It is at quarter past eight.
Man: 8:15! That's too early. I want to get a coffee. And when is the next one?
Woman: The next bus is at quarter to nine.
Man: 8:45. OK, I can take that one.
Woman: There is also one at 9:15.
Man: Hmm. 9:15 is too late. I have a class at 9:30.
Woman: Don't miss it then!

Describing people
Tell me about your best friend!

Chorus:
What does he look like?
Tell me all about him.


Verse 1:
He is tall.
He has short hair.
He has brown eyes.
He has blonde hair.
But most of all, he is great!
Tell me about your best friend!

Chorus:
What does she look like?
Tell me all about her.

Verse 2:
She is short.
She has long hair.
She has blue eyes.
She has black hair.
But most of all, she is great!

Giving Information about objects
1- A girl is sitting at a table, looking at her computer.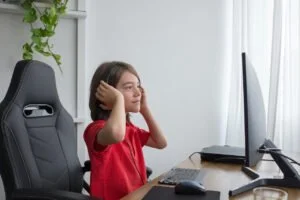 2- A boy is standing by his bedroom window, looking outside.
The garden below looks lovely. The sky is DIZZY.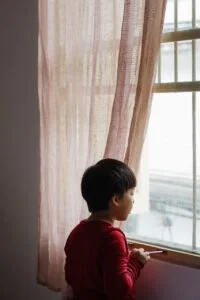 Describing Habits and routines
I wake up and get up from the bed as soon as the alarm goes off at 5:30 o'clock a.m.
Next, I head to the bathroom where I brush my teeth.
Then, I take a shower and get dressed.
Afterwards, I have breakfast with my parents and siblings at around 7:00.
We catch the 7:30 bus at the bus stop.
Most of the time, we arrive at school at 8:15.
Classes start at 8:30.
Break time is at a quarter past 10.
We resume lessons fifteen minutes later.
We eat lunch from noon to half past one.
In the afternoon, we start classes at two after resting for an hour.
When the bell rings at 4:00 p.m., it is finally time to go home.
We take the bus again and reach home before 5:00.
Later, we have our afternoon snack.
Often, we do our homework before we can go out to play, watch TV, surf the Internet or play video games.
We have dinner at 8:00 p.m.
Bedtime is at 10:00 o'clock
Expressing likes and dislikes

I ADORE having a massage after work. It helps me to relax.


I LOVE shopping for clothes in the sales. I've got some great bargains.


I'm INTO making music.


I LIKE inviting my friends around for dinner. I ENJOY cooking a special meal for them.


I LIKE ice cream.


I HAVE A SOFT SPOT for Sarah.


I'm QUITE KEEN ON learning new languages.


I THINK Mark's idea IS BRILLIANT.


ADORE here suggests a strong feeling of pleasure.


I'm NOT KEEN ON watching soap operas.


I DETEST being stuck in a traffic jam.


I HATE Mondays!


I LOATHE visiting the dentist.


I CAN'T STAND Paula's new boyfriend.


Shopping DRIVES ME CRAZY.


Both I CAN'T STAND and I CAN'T BEAR mean I HATE.

A1 English Grammar.

VERB BASIC:
A verb is the main part of speech that is often used to describe or indicate an action. Action verbs tell what the subject of a sentence is doing. Action verbs include words such as run, write, think, sleep and wonder, among thousands of others
Here are some basic ways to use verbs.

Questions

What do you eat for breakfast?
Where do you eat lunch?
When do you eat dinner?


Affirmative

I eat toast and fruit.
I work at home.
I live near the station.


Negative

I do not eat cereal.
I do not work in town.
I do not live by my work.


Negative Contraction

I don't eat cereal.
I don't work in town.
I don't live by my work.


Yes / No Questions

Do you eat at home?
Yes, I do. / Yes, I eat at home.
No, I don't. / No, I don't eat at home.


ADJECTIVES
An adjective is a word that describes an animal, person, thing or thought. Adjectives include words that describe what something looks like and what it feels like to touch, taste, or smell. Adjectives can be colors or words that describe temperatures and sizes. Try describing yourself.
Adjectives are words that describe things.

Point 1: Adjectives can go after a 'be' verb.

I am tall.
She is nice.
My cat is cute.


Point 2: Adjectives can go before a noun.

I have a big house.
That is a nice bag.
He is a good teacher.


Point 3: You can put adjectives together.

Two adjectives

He is smart and funny.
She is kind and friendly.

Three adjectives
She is tall, strong, and fast.
The test was hard, long, and boring.


PREPOSITIONS
A word or group of words that combine with a noun or pronoun to form a phrase that usually acts as an adverb, adjective, or noun "with" in "the house with the red door" is a preposition.

Part 1: Prepositions go before a noun (and determiner).

She is in a meeting.
They drove to the store.
I live by a lake.
We have class at eight.


Part 2: Prepositions show the location of an object.

The cat is by the door.
There is snow on the mountain.
There is a running track around the soccer field.
My shoes are under the bed.


Part 3: Prepositions can also be adverbs after a verb. We call these phrasal verbs.
The meaning can be different than the meaning of the preposition.

I woke up late.
Please turn on the radio.
Don't give up.
Please take off your shoes in the house.


Part 4: Prepositions are harder to hear in spoken English because they are reduced and often blend with the word before it.

He's in a meeting ~ Hez-zin-na meeting.
She's out of the room at the moment ~ Sheez-zout-dov the room-mat the moment.

SUBJECT PRONOUNS
A subject pronoun is exactly what it sounds like. It's a pronoun that takes the place of a noun (or subject). Remember, a sentence's subject is the person or thing that performs the action of a verb.

Point 1: Subject pronouns take the place of a person or person's name.

Sally is a farmer.
She works outside.
Bob is a doctor.
He works at a hospital.
Bob and Sally are married.
They have one child.
They have a house.
It is really big.
We like them.
You will too!


Point 2: The first person subject pronoun I, and we refer to the speaker. It can be singular (S) or plural (P).

(S) I have a pool.
(S) I swim every day.
(P) We love Italian food.
(P) We eat it often.


Point 3: The second-person subject pronoun you refers to the listener. It can be singular (S) or plural (P).

(S) You are nice.
(S) You should come.
(P) You (all) can sit down.
(P) You (guys) should come.


Point 4: The third person subject pronoun he, she, it, they refer to a person, people, thing, or things.

I like Bob.
He is nice.
I also like Sue.
She is funny.
Bob and Sue are married.
They have one child.
They have a house.
It is really big and nice.
They have two cars.
They rarely drive them.

BE VERBS
In English, it can be used to say different things according to the context. However, the most common use of the to-be verb is to talk about names, ages, feeling, nationalities, and professions, especially when talking in the present tense.

Point 1: Yes/No questions with I –

1st person singular.
Am I late? (adjective)
Am I in your seat? (prepositional phrase)
Am I your best friend? (noun phrase)
Yes, you are.
No, you are not.

Point 2: Yes/No questions with you –

2nd person singular.
Are you hungry?
Are you at home?
Are you a teacher?
Yes, I am.
No, I'm not.

Point 3: Yes/No questions with she –

3rd person singular.
Is Mary mad?
Is she on the phone?
Is she your friend?
Yes, she is.
No, she isn't.


Point 4: Yes/No questions with he –

3rd person singular.
Is Jason upset?
Is he in the room?
Is he a nice person?
Yes, he is.
No, he isn't.


Point 5: Yes/No questions with it –

3rd person singular.
Is the computer expensive?
Is it on sale?
Is it a good computer?
Yes, it is.
No, it isn't.


Point 6: Yes/No questions with they –

3rd person plural.
Are Bob and Mary married?
Are they in the office?
Are they a couple?
Yes, they are.
No, they aren't.


Point 7: Yes/No questions with you –

1st person plural.
Are we next?
Are we in trouble?
Are we a good team?
Yes, we are.
No, we aren't.


Point 8: Yes/No questions with you –

2nd person plural.
Are you (guys) hungry?
Are you (all) at home?
Are you (two) good friends?
Yes, we are.
No, we are not.

Check out more grammar HERE.
A1 English Vocabulary.
Here are the numbers from 0-20 used in Numbers Activities and Exercises:

zero
one
two
three
four
five
six


seven
eight
nine
ten
eleven
twelve
thirteen


fourteen
fifteen
sixteen
seventeen
eighteen
nineteen
twenty

Here are the important words used in Colour Activities and Exercises:

black
blue
brown
colour/color
green
grey/gray


orange
pink
purple
red
white
yellow

School Activities and Exercises
Here are the important words used in School Activities and Exercises:

backpack
board
book
bookcase
chair
class
classmates
classroom
clock
computer
crayons


cupboard
desk
door
eraser
floor
learn
lesson
paper
paint
brush
pen
pencils


poster
rubber
ruler
school
table
wall
window

Here are the important words used in the body and face activities and exercises:


arms
body
ears
eyes
face
teeth



feet
fingers
hand
legs
mouth

Here are the important words used in Food and Drink Activities and Exercises:

apple
banana
bean
bread
breakfast
burger
cake
carrot
chicken
chips
chocolate
coconut


coffee
dinner
egg
fish
fruit
grapes
kiwi
lemon
lemonade
mango
milk
onion


orange
peas
pie
pineapple
potatoes
rice
tea
tomatoes
vegetables
water
watermelon

Household rooms and objects
Here are the important words used:

apartment
armchair
bath
bathroom
bed
bedroom
bookcase
box
camera
chair


clock
computer
cupboard
desk
dining room
door
flat
garden
hall
home

house
kitchen
lamp
living room
mat
mirror
phone
picture

room
rug
sofa
table
television
toy
wall
window
Here are the words from these Clothes Activities and Exercises: