Parents play a crucial role in children's learning journey, especially during the early years. Being a parent or educator, one of the most important skills you can teach to your 3-year-old child is phonics. It's a powerful tool that helps kids develop their reading skills. With phonics strategies, they learn to decode new words, sounds, and more.
Are you wondering – how can I teach my 3 year old phonics at home?
Let us help you with bespoke phonics teaching methods for preschoolers. Continue reading our article to learn the art of phonics teaching, especially designed for toddlers.
What Does Phonics Mean?
Phonics is a tool to equip young children with the necessary skills to read and write. Phonics teaching focuses on the relationship between letters and sounds. It's a fundamental approach to understanding the systematic links between written and spoken words.
To read, spell, and write successfully, kids must learn how to turn written words into appropriate sounds. It is important for them to understand the letter-sound relationships to ensure language development.
Phonics teaching covers a vast range of subjects, including phonemic awareness. It involves identifying the sounds of spoken words or language.
Through phonics, children learn how to recognize as well as isolate individual phonemes within a group of words. They also learn to blend the phonemes to form words and manipulate them to create new words.
During the learning classes, young learners understand the basic letter-sound associations, complex phonics rules, and patterns. At the advanced level, they are likely to have the capability of deciphering unfamiliar words independently. This empowers them to read and write confidently.
5 Reasons Why Phonics Is Important for 3-year old
3-year-old toddlers are at the right age to learn language development skills. When they are at this age, it becomes easier for parents to mold their brains that act almost like a sponge. They can absorb any information and learn new things at an astonishing rate. Introducing them to phonics at an early age is a must for the following reasons:
1. Improving Reading Skills
Let's start with the obvious one. Yes, phonics learning ensures successful reading. By understanding letter sound rules and relationships, young ones become able to decode new words. With a step-by-step phonics teaching method, you help them learn how to break the code of written language. Both the basic and complex patterns help them sound out familiar words and predict unfamiliar words correctly. In short, phonics teaching is a process for simplifying children's reading and writing journey.
2. Ensuring Vocabulary and Language Development
During phonics learning sessions, young souls are introduced to new words and phrases. The classes focus on how words are constructed or spelled. It's undoubtedly a great way to improve their vocabulary and language development skills. With good phonics learning courses and practice, your child is likely to understand how different letters work to form a sound.
While teaching this tactic, teachers often use various known and unknown words. All these help them expand their vocabulary for improved language skills. Besides phonics learning courses, English movies can also be a great tool for vocabulary and language development.
3. Making Them Better Spellers
When kids learn and understand phonograms that involves breaking a word into sounds, they become able to spell words correctly. Understanding phonics rules is crucial in choosing appropriate phonics for the specific sounds they hear. The importance of phonics learning is, therefore, not only for boosting reading skills but also for improving writing skills with correct spelling.
4. Ensuring Cognitive Development
Phonics learning involves various cognitive skills – reading, remembering, paying attention, and logical reasoning. It's a brain exercise for intellectual growth. During phonics learning and practice sessions, toddlers pay undivided attention to letters and sounds to understand new words and phrases.
It helps them develop their general thinking skills, like reasoning, probabilistic reasoning, and more. They also become patient and focused with adequate learning sessions. The more they practice phonics, the sooner they improve their cognitive development skills.
5. Boosting Confidence
Phonics skills take the guesswork away from reading and writing. When you teach your child how to decode letters and their sound systematically, the little one will be able to read with full confidence. But make sure you avoid common phonics teaching mistakes to ensure accuracy.
Let them know the basic and complex patterns and strategies so that they don't have to struggle with unfamiliar words, and spellings. Thus, you can help them get rid of the fear of making mistakes while reading and writing. Recognizing the systemic patterns of decoding words and sounds is a great way to improve their reading and communication skills.
Now that you know the importance of phonics learning for 3-year-olds, let's focus on the following writeup to get the answer to the question – how can I teach my 3 year old phonics at home?
10 Proven Ways to teach a 3 year old Phonics
1. Letter and Sound Introduction
Phonics teaching can be tricky without a systematic approach. So, be sure that you use the right strategy. Remember, you are teaching toddlers. So, be patient with them and try to make the English and phonics learning sessions fun-filled and engaging.
First, introduce the alphabet and its sounds to your little one. To grab their attention, visual aids, such as flashcards, alphabet charts, and illustrative alphabet books can be used. When you introduce each letter, consider emphasizing its sound. To ensure fast learning, ask your kid to repeat the specific sound after you.
2. Phonemic Awareness Lesson
Before we discuss further phonemic awareness, you must know – there are 44 speech sounds, also known as phonemes, in the English language. When we speak, we put speech sounds together to form words.
During phonics classes, you should help little learners understand these 44 speech sounds. Phonemic awareness lesson involves identifying, differentiating, and manipulating individual phonemes within words. Fun activities, like rhyming, blending, and segmenting sounds help preschoolers develop phonemic awareness skills.
3. Synthetic Phonics Discussion
Synthetic phonics focuses on teaching letter-sound correspondences in a systematic way. It helps kids learn how to blend individual sounds into words. 3-year-old children learn to decode unknown words by understanding phonemes and it improves their reading and spelling skills.
With three to four phonics teaching levels, interactive activities, and consistent practice, parents can help children understand synthetic phonics for enhanced literacy development. It's an approach for little ones to read, write, and communicate properly.
4. Flexible Instructions
Every child is special and they have different phonics knowledge levels. So, it's important for parents to be flexible with their phonics instructions. Not one common teaching method fits every child's learning needs.
While teaching kids at home, be versatile and use tailored instruction methods for the best possible results. Before working on your phonics instructions, analyze your 3-year-old's phonics skills and knowledge. It helps tailor your strategies or methods as per his needs.
Using a multi-sensory learning approach can be effective in improving their auditory, visual, and kinetic abilities.
RELATED: How our Phonics Course is Changing Lives
5. Phonics Teaching Through Fun Activities
While teaching your kid decoding words, use playful and interactive techniques and fun games. All these techniques work effectively in grabbing their attention and ensuring engagement.
Find some fun games as per the specific lesson's theme. Games, like reading story books, flashcard games, and singing songs promote engagement, communication, fluent reading, improved listening and spelling skills, etc.
If you are confused about – how can I teach my 3 year old phonics at home, it's better to follow Fun to Learn English's courses, like Phonics Power-Up Course, Baby Steps Phonics Course, English FUNdation Course, etc. All these courses by the best English learning center equip you with the necessary tools to successfully teach Phonics skills to toddlers.
6. Blending and Segmenting Sound Practice Sessions
Once your child learns to identify letters and sounds, play an interactive game. It involves blending and segmenting individual sounds to create words. It helps them develop phonemic awareness skills within a short time.
To make this practice session more engaging, try to do blending and segmenting the sounds by yourself and ask your toddler to follow you. With adequate practice and repetition, he is likely to achieve language proficiency quickly and smoothly.
7. Storytelling and Phonics
Use phonics-based stories during the practice sessions. It's an engaging way to learn and practice phonics through reading stories and comprehension. It's also good for vocabulary development and grammar learning. Besides learning English grammar through games, parents should use storytelling techniques to teach kids phonics at home.
8. Listening Skill Improvement
Parents like you can encourage toddlers to listen to English songs and nursery rhymes and sing along. Repeating and singing allow them to practice phonics by using the articulators. Another way to improve their listening skills is to play pronunciation through an English translator. After they listen to the particular word sound, ask them to repeat it.
Phonics skill development should have a vast approach to improve reading skills, listening skills, writing skills, and vocabulary. Also, it's necessary for you to explain the meaning of unfamiliar words along with spelling and sounds. It enables young learners to decode the specific word in a proper manner.
9. Writing Practice
The Phonics teaching approach often doesn't focus much on writing and meaning. Unfortunately, a few educators do not encourage toddlers to learn how they can write and use words meaningfully. But, it's certainly not the right method to follow. Phonics teaching instructions should be designed to ensure quick English language learning. So, don't forget to incorporate reading, listening, and writing practice in the phonics learning sessions.
10. Old Lesson Revision
Before jumping to a new phonics skill, parents should revise the old skills and sounds to ensure a positive impact on toddlers' reading and writing skills. Consider reviewing all phonics sounds for the optimum outputs. With a structured teaching method, it will be easier to cover the entire learning aspects – from understanding new skills to doing revisions of old lessons.
How Fun to Learn English's Courses Help Pre-Schoolers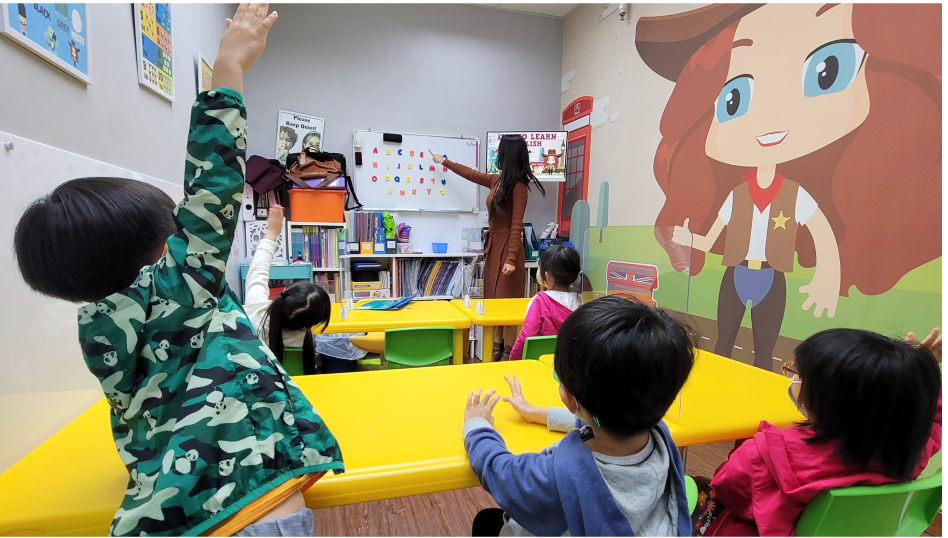 Fun to Learn English's Courses are the answers to your question – how can I teach my 3 year old phonics at home?
Specially designed for toddlers, our courses, like Phonics Power-Up Course, Baby Steps Phonics Course, and English FUNdation Course help kids identify letters and their sounds.
Our Phonics Power-Up Course consists of three levels: Level 0, Level 1, Level 2, and Level 3. In the zero level, we introduce 26 letters, sounds, and phonemic awareness to kids. Our next level involves showing blending and CVC words and diagraphs.
After that, we introduce them to consonant blends, alternative long vowels, and vowel diagraphs. The final level is about introducing complicated or tricky sounds and improving their reading and writing skills through dictation.
Our Baby Steps Program can be pretty interesting for little ones. We have made this course engaging through PowerPoint presentations and flashcards. This is how our Baby Steps Phonics Course is going to help your kid learn and develop phonics skills:
Learning to recognize all the letters
Discovering the sounds of each letter
Exploring the connection between letters and sounds
Learning and understanding new vocabulary
Last but not least – our English FUNdation Course is here for all kindergartens out there. It's an all-rounded course to learn the English language through fun activities and games. Through interactive PPT presentations and various engaging activities, we help 3-year-olds learn phonics and language development skills.
Our English FUNdation Course involves three different levels –
Level 1: It's about listening and speaking
Level 2: We encourage little learners to listen, speak, and read.
Level 3: This level focuses on listening, speaking, reading, and writing.
This course covers almost all language skills properly. Our purpose for creating this course is to equip children with the skill to read and write words and sentences confidently.
We use a theme-based learning process to make the entire session engaging. Apart from these three courses, we also have English Grammar and Writing Course and Fun to Chat Room to ensure an excellent English learning experience for preschoolers.
Hopefully, now you have got the right answer to the question – how can I teach my 3 year old phonics at home? To help your little one achieve the language goal as quickly as possible, don't forget to teach them consistently with Engaging Phonics courses.