Mastering English can be a daunting task especially for kids who are just starting out. While textbooks and classrooms are still very relevant and effective – they still have that Boring aspect.
If you're one of them, don't worry. We have brought out a fun and more engaging way of learning English while being entertained at the same time – Movies. In this article, we'll cover a list of 12 great movies that are child-friendly and are extremely valuable to add to your learning path, how we can learn English with movies and why movies are important.
So grab some popcorn and let's get started.
List of Movies to help your child learn English
1. Toy Story (1995)
Toy Story has been one of the most popular movies in my childhood that had helped me to practice my English skills. It's a movie about toys that come to life when nobody's around and have their own adventures. The main character is a cowboy named Woody, who is the leader of all the toys owned by a kid named Andy.
What makes Toy Story a wonderful resource for learning English is that the dialogues are easy to understand even for kids and it teaches us about some valuable life lessons about friendships, teamwork and trust.
2. Finding Nemo (2003)
If you're looking to learn new words and phrases, meet interesting characters and have a fun movie watching experience then add Finding Nemo to your wishlist now. It's a movie about a cute little fish named Nemo who gets lost inside the ocean. His dad, Marlin goes on an adventure to find his little boy as he encounters lots of interesting sea creatures along his way.
Apart from the story, kids gets to meet lots of sea creatures which familiarizes them with the marine and aquatic life and their characteristics.
3. The Lion King (1994)
The Lion King is my all-time favourite among all the classics I've seen so far. The movie is about Simba, the lion cub who grows up to be the King of the jungle and meets lots of interesting characters like Timon and Pumbaa.
The fun dialogues, the catchy songs, meeting all of the jungle creatures and going on an adventure with them – makes Lion King a must-watch for kids of all ages.
4. Beauty and the Beast (1991)
If your kid likes a movie with magic castles, enchanted furniture and talking candlesticks then there's nothing better than Beauty and the Beast. It's about a girl named Belle who falls in love with a beast, who is actually a prince but has been carrying a curse given by an enchantress.
It's captivating to see how Belle teaches the Beast about love and compassion and how one can look beyond their appearance and understand their true character.
5. Alladin (1992)
"Have you seen 'Aladdin'? It's an awesome movie about a street rat named Aladdin who falls in love with Princess Jasmine and gets help from a genie to win her heart. But he also has to face the evil Jafar, who wants to use the genie's magic for his own selfish purposes.
It not only helps your kids practice their English skills but also learn some of the most valuable lessons like standing up for yourself and what you believe in and how to always do the right thing.
6. The Incredibles (2004)
What do kids expect the most in their favourite movies – SUPERHEROES!!
With The Incredibles you get a thrilling and action packed adventure with lots of cool superpowers. The Parrs, a family of superheroes come out of retirement to save the Earth from a dangerous villain. Each family member goes on their journey to find out their own superpowers and uses them to fight crime.
If you want to teach your child English in a fun and entertaining way along with the lessons of teamwork, courage and finding out their talents – we rate this a must watch.
7. The Jungle Book (2016)
The Jungle Book is an exciting movie about a boy named Mowgli who grows up in the jungle with his animal friends. The movie is set up in a beautiful and lush green jungle where kids can explore different types of animals as well as tropical plants and trees.
Your kid can learn new words, hear some amazing songs and be inspired by the exciting story.
8. Mary Poppins (1964)
Remember Mary Poppins? The magical movie about a nanny who takes care of two children – Jane and Michael and takes them on all sorts of adventures. She carries a magic bag that can hold anything inside and she teaches valuable lessons about spreading kindness, opening up your imagination and positive thinking.
It's set in London, hence you'll get references to British cultures like tea time and chimney sweeps which helps you to not only exercise your vocabulary in English but also understand different etiquette and greetings.
9. Wall-E (2008)
Want to take your child to a futuristic world filled with robots and Artificial Intelligence? Then Wall-E would be my recommendation.
It's a fun and futuristic movie about a lonesome robot named Wall-E who lives on a deserted Earth doing the same things in life over and over again. He dreams of finding love and friendship. All of a sudden a new robot arrives and changes his destiny as he sets out on an adventure to follow his heart and to rescue humanity.
It's a great movie for learning English as it has a lot of interesting characters and fun dialogues that engages your child and creates a lasting impression. It also speaks volumes about environmentalism, love and friendship and educates us about AI and the future world.
10. Monsters, Inc. (2001)
You might be thinking, this guy must be crazy to recommend a monster movie to kids. You can relax, cause it's not like your regular spooky monster movies that your kids will dread. Monsters Inc. follows the story of two monsters, Mike and Sulley who work at Monsters Inc. – the biggest scare factory in the world.
It's full of humor and dialogue that helps your child get acquainted with new English words and phrases and grammar. It takes you out of the human world and brings you in this hilarious but imaginary world filled with monsters and introduces us to their unique problems and lifestyle.
How to learn English with movies the right way?
Both movies and reading books are excellent resources to help kids improve their English speaking or writing skills. Unlike adults, children are quick to pick up on a specific language and their expressions without any conscious effort.
Let's understand how we can go about learning English properly while watching movies.
Start with simple ones
When starting to make your child acquainted with English movies, always start with movies that are kid-friendly and have simpler vocabulary and easy sentence structures to build a strong foundation. You can use our recommended list of movies to start with and encouraging them to remember some of the dialogues and fun sequences that they would enjoy.
Turn on the Subs
While encouraging your child to watch English movies, always remember to turn on the right subtitles as that can really help them to follow along with the spoken words with their written forms. Subtitles are mostly like dialogues written on a book – they improve your child's Phonetic skills and how to structure the words in appropriate sentences.
This is something we have tested in Fun to Learn English and have great results!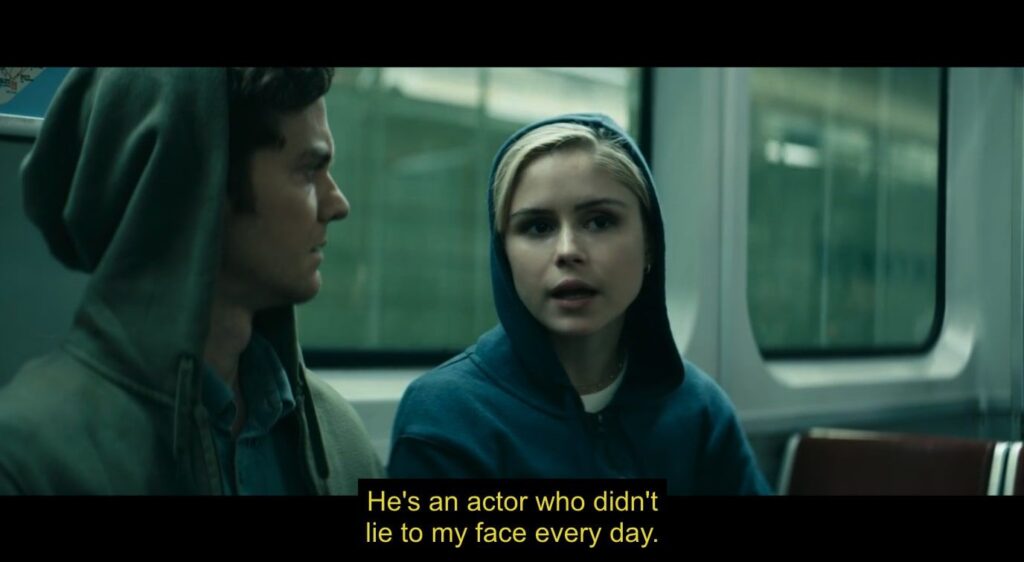 Repeat favourite expressions
Allow your child to repeat various phrases that they've learnt from watching movies. You can pause and also ask them about what they think is happening in the story-line and what certain words mean. This helps them understand the story better and expand their vocabulary.
Use props or toys
As a child we are always dreaming about owning toys of our favourite superheroes and characters. You can buy certain props or toys associated with the movie to act out scenes and practice speaking in English. This will help your child to retain knowledge quickly and make learning more fun and exciting.
Watch the movie multiple times
Encourage your child to revisit their favourite movies multiple times as it helps reinforce vocabulary and learn how to organize sentence structures.
Make sure to have lots of fun while watching these movies with your child. Unlike books, movies are meant to be fun and engaging learning experiences that can be watched with the entire family together.
Why watching movies is important?
So far you got our movie list sorted and understood how you can use it to improve your kids' English speaking and writing skills but why is this so important?
Let me show you some stats. It is found that out of 100, 55% of communication is actually body language, 38% is the tone of voice, and 7% is the actual words spoken.
Watching English movies help kids develop good listening and comprehension skills as they listen and watch their favourite characters use their body language and facial expressions. They also help to enhance their vocabulary and grammar skills as they learn new words and understand how to use them in proper sentence structures.
And of course it introduces them to cultures of various countries and religions. Thus they get to learn about different countries and how they speak English. Encouraging them to watch movies from time to time helps them to stay motivated and interested in learning the language.
Conclusion
So overall learning English through movies can be a really fun and interesting way to practice their English speaking and writing skills. It saves your kid from the boredom of going through pages from a textbook and struggling to remember tenses, words and phrases. That's all for today, tune in to our FUNtastic Community to enjoy more freshly released content like this. Bye bye now and have fun!