Learning a new language can be a challenging yet rewarding endeavor. And for many, mastering English is a valuable skill. If you're planning on getting your child started on the journey early on, identifying the best cartoons to learn English can be a great and effective way to make the process fun.
Cartoons provide a unique platform for young learners, offering engaging content with relatable themes, simple dialogue, and vibrant visuals that aid in comprehension.
More specifically, cartoons can help through:
Interesting and relatable themes: Kids are by nature fascinated by moving colors and images. This makes television an optimum mode of dispensing education in a way that keeps them engaged. Cartoons deal with various relatable themes for kids, and at the same time can also highlight moral values.
Repetition and conversation: Language fluency is improved upon by regular practice and conversation. While watching cartoons, kids often tend to imitate the speech patterns and phrases they picked up.
Varying proficiencies: You can find cartoons that cater to varying levels of fluency! Since cartoons are made with age ranges in mind, you can find some for toddlers, as well as those for pre-teens and young adults. By using the age range as a guide for the difficulty level of the English used, you can filter out those that might be too easy or hard for your child.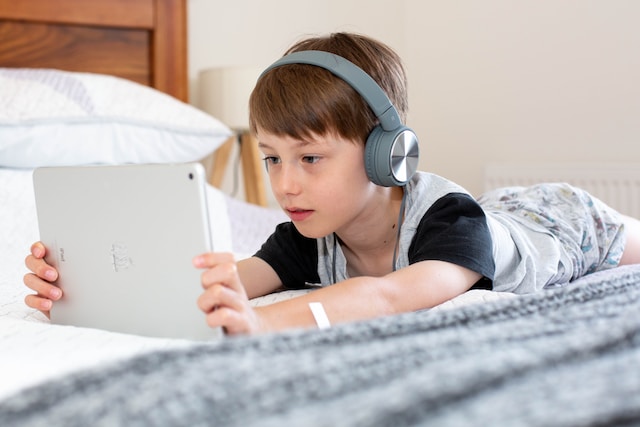 While there are many cartoons you can find online, some things to keep in mind while picking the most suitable one for your kid are:
Their level of acquaintance with the language – This will decide how slow or fast-paced the cartoon is.
The tone and theme of the show – Since kids tend to pick up the speaking manner, it is important to ensure the characters speak in a decipherable and forward tone. While one might think that all cartoons are aimed at kids – this is not so. There are many cartoons that are aimed toward an older demographic – hence it is paramount to keep the age range in mind
The culture represented (or country of origin) in the show – Cartoons aimed towards a particular demographic can have elements that other demographics might find unrelatable.
The plotline vs dialogue focus – Try to find shows that are more dialogue-driven rather than plot-heavy as flashy animation and confusing timelines can act as distracting element for new learners. You can also think of this as educational versus entertainment. There are many cartoons specifically made to educate kids, whereas many tend to simply offer a fun escape.
The presence of subtitles – For slightly older kids with quick reading skills, try to find shows that have subtitles as this can improve both reading and comprehension skills.
We've curated a list of the best cartoons for learning English that keep these above points in mind while offering a fun experience that even parents can share!
20 Best Cartoons to Learn English
We've broken down the list based on how proficient you need to be to keep up with the show. The age range of the show refers to the rating of the show as per the censorship board and is not necessarily the range that would enjoy the show.
Beginner
These shows are created with the sole purpose of acting as educational supplements for kids. They feature slow English, small worlds, and interactive elements such as third-person questions.
"Peppa Pig" is one of the most popular children's animated series that follows the adventures of Peppa, a cheeky pig, and her family and friends. The episodes revolve around her daily life and interactions with friends and each episode runs for around 5 minutes.
It's specifically catered towards toddlers with slow, measured English – without slang or big words.
Age: 4 to 6 years
Good for: vocabulary, basic phrases, social skills
Martha is a yellow dog who learns to speak after ingesting some alphabet soup. The show is a silly, language-focussed cartoon that shows Martha getting into various hijinks with her family every day.
Age: 4 to 7 years
Good for: vocabulary, basic phrases, sentence formation
Running since 1969, this is without a doubt the most beloved educational cartoon till date. Set on a lively urban street, it combines puppetry, animation, and live actors to teach essential skills, from numbers and letters to social and emotional intelligence. The show follows Big Bird, Elmo, Cookie Monster, and their other friends as they navigate daily life.
Age: 3 to 5 years
Good for: vocabulary, basic phrases, basic mathematics, social skills, navigational skills
Watched by adults and kids alike, SpongeBob SquarePants was created by Stephen Hillenburg and first premiered on May 1, 1999. It follows SpongeBob – a sea sponge that works at the Krusty Krabs, and his interactions with his friends – Patrick Star, Mr. Krabs, Squidward Tentacles, and more.
Age: 6 to 11 years
Good for: vocabulary, basic phrases, social skills, moral discourse
Dora the Explorer revolves around the adventures of a young and inquisitive Latina girl named Dora Marquez. Dora embarks on exciting journeys across various terrain, accompanied by her loyal monkey friend Boots, her talking backpack, and her anthropomorphic map.
The show has, since its premiere in 2000, been translated into multiple languages. Apart from language, it also teaches basic mathematics, object identification, problem-solving, pattern finding, and more.
Age: 3 to 7 years
Good for: problem-solving, basic language, object and place naming, patterns, counting
"Paw Patrol" is set in the fictional Adventure Bay and revolves around a group of rescue dogs with unique skills. The main character is a young boy named Ryder who leads the Paw Patrol team. When trouble arises in Adventure Bay, Ryder and his team of talking puppies get to work. The episodes are action-packed, rescue-mission-style stories.
Age: 1 to 6 years
Good for: language, problem-solving, social skills, humor
This is a great show for those looking to teach their kid pronunciation and dialogue delivery. George is a monkey who gets caught up in various escapades daily, along with his friend – Man in the Yellow. The success of the series has led to a film, books, and multiple shows.
Age: 5 to 8 years
Good for: language, problem-solving, dictation
Intermediate
To understand these, you need to have a good enough grasp of the language to understand compound sentence structures. The shows are not specifically educational and often deal with themes of friendship, family, and relationships.
Phineas and Ferb is a show set during the summer vacation that follows the adventures of two stepbrothers, Phineas Flynn, and Ferb Fletcher. The duo is determined to make the most of their time off from school by creating a new, ambitious, wild project every day. They build roller coasters, time travel machines, water parks, and more, all while evading their elder sister Candance.
Age: 9 to 14 years
Good for: language, object identification, humor and social skills, moral discourse
Arthur Read is an aardvark residing in the fictional Elwood City. Each episode typically revolves around Arthur's school and home life, with characters navigating through experiences like dealing with a bully, facing a challenging school assignment, or learning the importance of honesty and fairness. The show aims to teach valuable life lessons and address real-life situations in a way that is understandable for children.
Age: 4 to 8 years
Good for: language, problem-solving, social skills, humor, moral discourse, emotional intelligence
Kim is your average high-school student with friends and homework. Except, she's also a crime-fighting hero who has to manage that on top of school. She, along with Ron Stoppable, his pet naked mole rat Rufus, and their super-genius friend Wade, form Team Possible who take on villains in every episode.
The show was especially popular due to its portrayal of a strong, independent, and relatable female lead character, which was relatively rare in animated series at the time of its release.
Age: Pre-teens
Good for: language, problem-solving, navigational skills, empowerment, moral discourse
As the name suggests, Word Girl is a show created specifically with vocabulary in mind. The series follows Becky Botsford, an ordinary young girl who works as the superhero WordGirl.
WordGirl faces off against wordplay-themed villains, such as Dr. Two-Brains, Tobey the Boy Genius, and The Butcher. Her skills are her vast vocabulary and wordplay that helps her outsmart the villains.
Age: 4 to 9 years
Good for: vocabulary, problem-solving
This show is a spin-off of one of the characters from Arthur – a rabbit named Buster. In the show, Buster Baxter travels with his pilot dad across North America and sends video postcards back to his friends in Elwood City, including his best friend Arthur, detailing his travels and the people he meets.
Age: 6 to 9 years
Good for: vocabulary, geographical knowledge, place and object identification, cultural diversity
Dexter is a student with a secret laboratory hidden behind a bookshelf in his room. Here, Dexter invents all sorts of incredible and often absurd contraptions to further his scientific experiments – but he must keep this a secret from his parents and his elder sister who might thwart his plans of world domination!
Note: Dexter speaks with a notable German accent and longer, complicated words. It might be more suitable for older audiences and is not suggested for kids picking up diction.
Age: 6 to 14 years
Good for: vocabulary
Gumball Watterson is a blue cat who lives with his Goldfish brother in Elmore. The show follows the daily lives of the Watterson family and their interactions with their friends, colleagues, neighbors, and more – often leading to ironic situations. The show is known for its distinctive animation style, blending 2D and 3D animation with real-life backgrounds.
Age: 9+ years
Good for: vocabulary, social cues
Advanced
These shows require a fairly good grasp of the language, and at the same time have more complex plotlines and themes.
Aimed at an older, pre-teen audience, Regular Show is a slapstick humour-based show that deals with surreal and absurd themes. The show showcases two best friends, Mordecai, a blue jay, and Rigby, a raccoon, who work as groundskeepers at a park.
The duo often find themselves in bizarre situations, encountering supernatural creatures and eccentric characters. The unique blend of pop culture references, off-beat characters, and comic timing makes this show great for adults and kids alike.
Age: 12 to 13 years
Good for: vocabulary, humor, social cues
Created by Michael Dante DiMartino and Bryan Konietzko, Avatar is a complex anime that has intricate characters, world-building, and moral dilemmas. The story takes place in a world where individuals known as benders have the power to control any of the classical elements: water, earth, fire, and air. The show follows Aang, one of the last "air" benders as he sets on a journey to master all the four elements.
Age: 10+ years
Good for: vocabulary, mythology, social cues, cultural diversity, moral discourse
Luz Noceda is your everyday teenager who mistakenly stumbles through a portal and ends up in a fantasy world where witches are real and demons are tiny and cute. Luz befriends an odd assortment of people and goes on adventures across every episode. The main theme of the show is friendship and conflict resolution. It also has episodes dealing with self-identity and acceptance.
Age: 7 – 12 years
Good for: vocabulary, social cues, problem-solving, moral discourse
Daria is a regular teenage girl living in a suburban town, who often locks heads with others due to her difference in perspective and opinions. The show caters to teenagers and hence deals with themes like peer pressure, social cliques, and the awkwardness of adolescence.
Age: 12+ years
Good for: vocabulary, social cues, moral discourse

Set in a fictional and bizarre version of New York City, the series follows the life of Mark Lilly, a social worker at the Department of Integration. In this world, New York City is home to supernatural and mythical creatures, such as demons, vampires, zombies, and more. Mark helps them adapt to the peculiarities of American society. Through his commentary, the series offers an interesting insight into everyday life and its challenges.
Note: This show is heavy with American cultural references.
Age: 14+ years
Good for: vocabulary, social cues, moral discourse
The series is set in the post-apocalyptic Land of Ooo and follows the adventures of a young boy named Finn the Human and his best friend, Jake the Dog. The episodes feature the duo going on various quests across time and space. The series has a unique blend of whimsy and satirical storytelling that makes viewers either love or hate it.
Age: 14+ years
Good for: vocabulary, social cues, moral discourse
Conclusion
Ultimately, it's important that kids enjoy the process of learning. Hence, finding a genre and plot that they find engaging is an important factor in cartoon selection. You can always refer to online snippets to check out the exact tone and vocabulary level the cartoon offers.
Either way, make sure kids have access to a dictionary or an adult who can help them through the dialogues and scenes they cannot decipher. We hope you find something on this list that appeals to you as both a fun activity and as a learning assignment.