If English is not our native language, if we start learning English Grammar then it might get frightening, especially for young children. But beginning to study using the appropriate strategy and quality resources may be a fulfilling experience for all of us.
The fundamental building block of language is English grammar, which is crucial for everyone to comprehend in order to communicate effectively. The best part about learning English grammar is that you don't have to start with the most difficult rules. Before you can run, you must learn to walk. Thankfully, there are numerous guidelines and methods for learning English grammar quickly and easily.
In this article, we go over a number of methods for efficiently learning English grammar. By following these tips kids can learn grammar in an effective way and feel more confident in using language.
1. Let's try to understand what Grammar is for kids
Grammar is the study of words and their application in sentences for children. There are no set rules for this; these rules can be altered based on the sentences and circumstances. People first begin to make noises, then turn those sounds into phrases and expressions, and then create a specific set of rules.
Thus, when children first begin to learn this, they begin by making noises without being aware of any restrictions. They attempt to concentrate on the words you speak in front of them in particular circumstances; afterward, they use those phrases. Kids are taught grammar to improve their skills and get them ready for more complex language in the future.
2. Introduce English grammar concepts with fun activities
When children are having fun, they are more inclined to learn. Therefore, it is essential to teach children through enjoyable activities. To teach youngsters grammar rules, you can come up with games or songs.
Before attempting the more complicated ones, start with the simpler ones. Just make sure your children are well-versed in the fundamentals of grammar, such as nouns, pronouns, and verbs. Play puzzle games to teach grammar in English. Children may learn while having fun by playing puzzle games. Making it a hands-on exercise would assist students in better understanding the grammar ideas being taught.
For instance, you could create a poster and write various phrase components on it before creating sentences using manipulation. Just remember to make kid-friendly activities that are acceptable for their age when creating them. Elderly players can handle sophisticated games, while smaller children benefit from simple and easy games.
3. Encourage kids to read and write in English
When studying English grammar, reading and writing is crucial. Always encourage your children to read novels or stories in English; this will make it easier for them to acquire and comprehend grammar rules.
Make things enjoyable for youngsters; when something is enjoyable to them, they are more likely to read and write. Create puzzle-style games for them utilizing grammatical principles.
Look for kid-friendly reading material. When the reading material is interesting to them, they enjoy it. Make this activity a regular to encourage your children to read and write in English at a set time each day or week. Their enthusiasm for reading and writing English will grow as a result of this.
Try to provide them with constructive criticism and prizes for their accomplishments; this will encourage them to keep practicing English grammar. You can also find a full guide to successful reading and writing English.
Use websites and application that is available on the internet for improving English grammar this will give you an amazing result. The material available on the internet is very interactive and engaging for kids and also improves the performance of kids in the learning process.
4. Use Visual Aids to start learning English Grammar
If you teach younger children through illustrations, diagrams, or movies, they will pick up new information more rapidly. For kids to comprehend grammar principles, this approach is really beneficial. When teaching children, try to utilize diagrams, images, or charts; this will help them learn more rapidly and will help them remember the concepts better.
For instance, you can write the various tenses on charts and provide examples, which makes learning easier for them. You can also teach youngsters names, pronouns, and other vocabulary using flashcards for this reason.
Children learn and retain the grammatical principles they are practicing with the use of visual aids. For instance, a visual aid that represents various speech elements with bright graphics and various forms will make it easier for children to recall the information.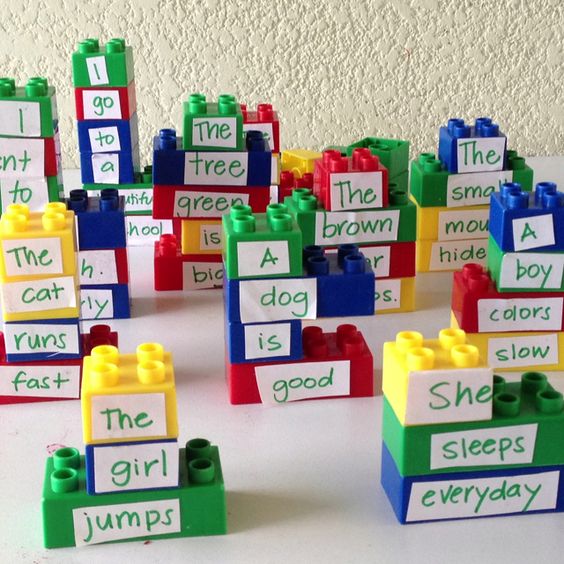 5. Make grammar lessons interactive
When children are bored or disinterested in lessons, they become less interested in learning new topics. With the help of interactive games like bingo and grammatical scavenger hunts, you may make grammar instruction for children more interesting and dynamic.
Another technique for engaging children in learning is role-play. Invite children to participate in a dialogue where they must utilize the correct subject-verb agreement.
Use engaging worksheets to teach grammar to children; this can't be dull. Create a worksheet that asks students to match the appropriate verb tenses to the photos. Kids may now learn grammar in a variety of engaging and interactive ways thanks to the abundance of websites and educational apps accessible today.
Make a dialogue in which everyone may participate and discover a variety of fresh ideas to make learning more engaging.
6. Break Down Grammar Concepts into Smaller Parts
If you reduce the topics down into manageable chunks for kids, they will find it simple to comprehend and learn. We go over some pointers for dissecting larger grammatical ideas into more manageable chunks. Start with learning the fundamentals of grammar, such as sentence structure and the different parts of speech.
Before introducing them to the more difficult ideas, make sure your children have a firm grasp of them. Give them illustrations of each idea you try to educate them. For instance, if you are teaching youngsters about verbs, try to give examples of the various verb tenses and sentence structures.
Children will comprehend how each component can contribute to the whole if concepts are broken down step by step. Consider dividing long sentences into separate clauses. Give the youngsters the practice questions so they may put the grammar rules they learn to use. They will be inspired and given the self-assurance to apply such ideas in their daily life as a result.
7. Practice, practice, practice
Practice is very essential while learning English grammar. Give your child a lot of opportunities to practice the grammar rules. By practice, they will able to use those concepts in daily conversation with confidence.
Practice gives them confidence the more they practice the more they become comfortable with concepts and use them in real-time situations. It will help them to create a better understanding and remember the grammar concepts in effective ways. Practice will help kids to find the area where they need improvement then give kids some extra support to advance their performance. Reviewing and applying the concepts, again and again, will help kids to remember the concepts for a long time.
Overall this practice will give a positive result also in other aspects of their life. Kids will practice in other areas of life also and get amazing results.
8. Be patient and encouraging
Learning English grammar is tricky, especially for kids so you have to be patient in their learning journey. First, you need to understand that learning grammar is challenging for kids so it takes much time for them to understand the concepts and apply them.
Give them positive feedback when they make progress and encourage them to keep trying. This will build their confidence and motivate them to continue their struggle. Complex grammar concepts can be difficult for kids to understand so try to break them into small parts. This can help them to understand easily and in a better way.
Be patient with kids' mistakes. It is normal to make mistakes when anyone learns new concepts and uses these mistakes as a new opportunity to learn and grow.
Conclusion
English grammar instruction is crucial for everyone, not just children. It is considerably more difficult to teach kids grammar ideas. There are numerous ways to introduce students to English grammatical ideas. Things can be easily taught to kids in a pleasant way. If the subject matter is not interesting to them, they will become bored.
Making complicated ideas more manageable for children by being patient and encouraging as parents or teachers will help your child learn efficiently. Using interactive content to teach youngsters and rewarding them can boost their confidence levels. Children can acquire the abilities and confidence necessary to communicate successfully and achieve in both their academic and personal life with time, effort, and dedication.